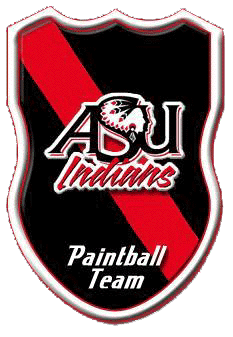 The Arkansas State University Paintball Club
Team Resume
December 1999
Contact Information
Mail:
2410 Mary Jane
Jonesboro, AR 72401
E-mail:
arkansas_state_paintball@yahoo.com
Webpage URL:
http://AstatePaintball.tripod.com
Phone:
870-974-9783
Shipping:
2410 Mary Jane
Jonesboro, AR 72401
Introduction
The Indian Paintball Club is an organization of members of the Arkansas State University community.
Its purposes are as follows:
To promote paintball as a sport within the Arkansas State University Community, surrounding areas, and areas in which participation in group events takes place.
To promote Arkansas State University in a positive way in all group activities and events.
To facilitate a safe paintball playing environment.
To provide for our members opportunities for safe paintball playing events.
To provide for our players the opportunity to play on the national level of paintball.
From The Constitution of The Arkansas State University Paintball Club
History
The Arkansas State University Paintball Team began in August of 1999 in the minds of several members of the campus community who had experienced Paintball in terms of the recreational and tournament levels. Given the opportunity to provide an educational program one was presented and thus the first official meeting in October of 1999. Response was very good to that first meeting and out of it The Arkansas State University Paintball Club was formed and its Paintball Team. The charter members went to work immediately the team logo was designed and a work began on an official constitution. After the constitution was hammered out it was ratified on December 1, 1999 and the first officers of the club were elected that historic date.
Goals For The Future
The overall goals of the organization are stated in the Introduction above.
Along those lines Our Year 2000 are:
1. To strengthen our membership through membership drives
2. To gain experience and gel as the various teams fall together
3. Participation in the state wide Arkansas Paintball Council tournament series
Participation in the National Intercollegiate Championships at Sherwood Forest, Laporte, IN, in the spring and the fall of 2000.
Participation in the Pan Am Paintball Circuit, Division Novice-AA attending at least 3 tournaments.
Participation in various NAAPSA qualifying tournaments.
Participation in at least 3 scenario or big games
Club/Team Charter Members
Their Markers and Experience
Officers
President:
David Shaw
PO Box 5057
State University, AR
E-mail:
10 plus years Paintball playing experience including 3 years of tournament experience
Former Captain of teams Maximum Overdrive (MS) and Modern Day Cowboys (MS, OR)
Currently shoots an Express Autococker
Vice President:
Bradley Deckard
2410 Mary Jane
Jonesboro, AR
E-mail:
bdeckard@fastdata.net
1 year Paintball playing experience
Currently Co-Captain of Sudden Impact Paintball Team
Currently shoots a 97 Autococker with various upgrades
Treasurer:
John Stephens
1221 Magnolia Rd.
Jonesboro, AR
E-mail:
jstephens@bestconveyors.com
5 years Paintball Experience
Currently Co-Captain of Sudden Impact Paintball Team,
Previously played for Suicide Machine 1 year, Team Captain Southern Lightning 2 years
Shoots a Autococker with various upgrades
Secretary:
Brent Deckard
2410 Mary Jane
Jonesboro, AR
E-mail:
bdeckard@fastdata.net
1 year Paintball playing experience
Member Sudden Impact Paintball Team
Currently shoots a Shocktech Autococker
Program Director:
Huy Nguyen
PO Box 4556
State University, AR
E-mail:
hnguyen@fastdata.net
3 years Paintball Playing Experience
Currently Shoots a 97 Autococker with various upgrades
Members:
Blair Loyd
2 Years Playing
Various Markers (10)
Trey Horner
9 Months Playing
Tippman 98
Matt Hurdle
1 Year Playing
97 Autococker
James Shipman
1 Year Playing
97 Autococker
Chris Cheadle
6 Months Playing
Kingman Spyder
Daryl Darr
6 Months Playing
Kingman Spyder
Chad Burdin
3 Months Playing
Kingman Spyder
Nathan Greenamn
3 Months Playing
Kingman Spyder
Nick Soapes
3 Months Playing
Field Gun User
Brady Smith
3 Months Playing
Field Gun User
Richard Blood
3 Months Playing
Field Gun User
Michael Ray
3 Months Playing
Field Gun User
PICTURES,
SPONSORS,
CONSTITUTION,
RESUME,
JOIN,
NEWSLETTER
CONTACT,
MAIN